The one thing that can be said for the inaugeral running of Rock Racing's SHivering Icy Trail Run (SHITR) in Weldon Spring, Missouri is that mother nature made sure to laugh in our faces. Icy would have been too easy. Slippery mud was much more the theme of the night. Oh yeah - cold rain turning to sleet at the end made for a lot of "fun" in the dark.
The day started out nice enough - cloudy, but warmish - low 40's (though not as nice as the previous day's 60°+ temps). All of the "racers" were anxiously watching the forecast in the day or two leading up to the race. Comments on Facebook abounded with discussions of this being the "Sort of Hot Incredible Trail Run" and people running in only shorts. But not to be outdone, the forecast west of the the race was for ice and sleet. My husband wasn't too keen on me going so far with possibly driving back in bad weather, but was assured (at least a little) that Lukas from Team Virtus would be driving the "Virtus Van". Oh, and I didn't tell him what I was really going to attempt. I didn't want him to worry or try to talk me out of it.
I met the van at the commuter lot across the river and then headed out to pick up Bob and make our way to the "race" site. I rode with Robby, Lukas and Bob from Team Virtus. They were a lot of fun to listen to - though they assured me that this was the "tamed down" version of their jocularity. They talked about fun they are planning for the coming year (Dirty Kanza, etc), the crazy adventures of years past (about a decade of adventure racing) and Bob went on about how awesome the groomsmen gifts he picked out for the guys were. We made pretty good time down I-70 and were soon at the race site (though we passed it briefly to take a side road and watch Luke and Bob take a whiz by the side of the road). Best quote of the night (from Lukas): "I'm going to be fighting a turtle head the whole race."
We pulled into the parking lot near "the Mound" where the other racers were gathering. We signed in, I made my donation to Patrick's
100+ Project
, ate a Kind bar (donated to the race - yummy), and waited for the guys to get changed into their gear (laughing a little when Luke realized he was missing his watch, trail shoes, etc). We chatted with Kate and a few of the other folks and took a couple of pictures, I pee'd behind a transformer in the field (bigger than a bush) and listened to the pre-race information. In all, it looked like about 43 people were going out there to suffer together (need to insert the group pic, but Blogger is misbehaving again).
Before we knew it, it was time to start. I got dropped almost before we hit the steps to the mound. Sad! And those steps in the wind were no fun. We ran around the benches at the top (highest/windiest point in St. Charles County) and headed back down.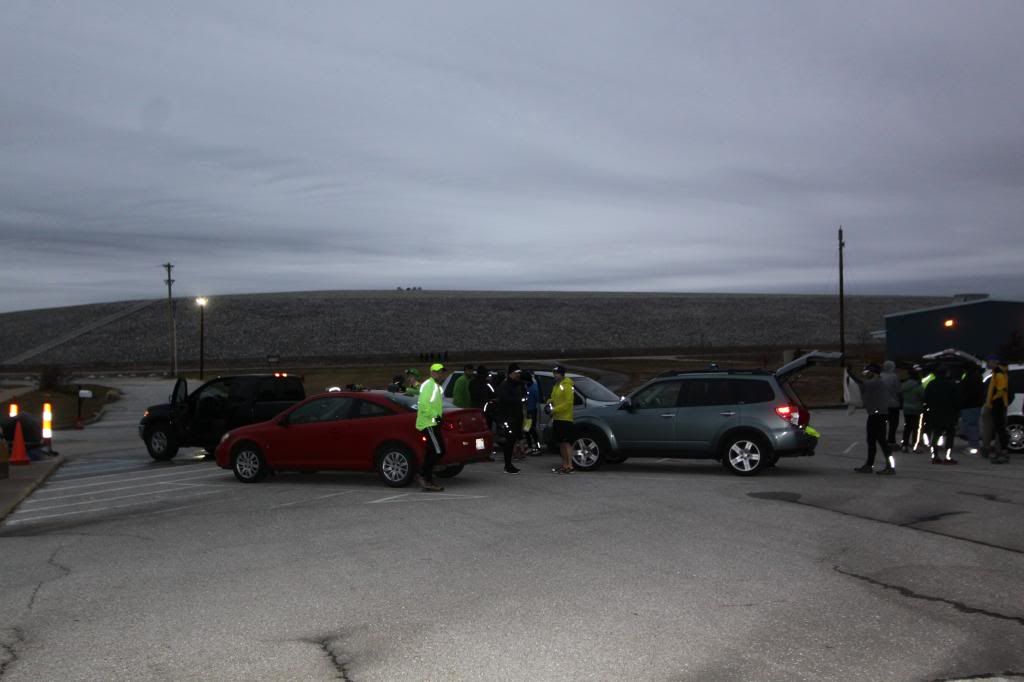 Parking lot pre-race; Mound w/ steps on the left in background
(old haz waste site capped with stone)
By the time we were on the flat, wide gravel trail heading to the Conservation Area, there was no one behind me and one lady close to me (Karrie from Edwardsville, IL). We ran together for a couple of miles making decent time as it started to sprinkle. First two miles (according to her GPS) were 12 min/mi. I was happy with that, but knew that the single track would slow us down further. Just as Karrie mentioned that "at least it wasn't raining too hard" - the rain picked up. Soon, I had to remove my glasses and tuck them in my fanny pack because I couldn't see through them. And as we entered the single track, the trails became the most hideous, slippery, sloppy, SHITTY mess with many areas that you could barely walk on, much less run. Karrie dropped me as I tentatively made my way along (now completely in the dark except my new headlamp) hoping not to reinjure my left ankle or injure anything else. This was the first point at which I was really not having fun and the tears were welling up in my eyes.
I put on some music, clumsily opened/ate some Gu Chomps (Watermelon) around mile 4, drank a little water (which was kind of scary because when I would look up tipping the bottle up to drink, I could no longer see where I was going) and just tried to maintain forward motion. But then we got to a section of the trail where it was cambered so badly towards the downhill side and was so slippery, I was really on the verge of crawling to get past. A few times I caught up or at least was within sight of Karrie and we'd chat for a minute or decide which way to go, but I was alone a lot. I got passed by a threesome that had gone the wrong way too. But being alone really sucked. The cold and wet didn't help either.
I'd hit some sections where there was a bit more gravel and more stable footing and try to pick up the pace, but then usually within a few seconds, there was a big root, rock or muddy section that I had to tiptoe through again. And I looked at my watch and was two hours in and not happy that I was probably only about half way done. Somewhere in here, I caught my pants on a stick and tore a hole. Thankfully, my UA tights were still keeping my legs relatively warm.
When I FINALLY got out of the single track (never having seen the mystery event cemetery), I was nearly 3 hours in and my light was getting dim. Oh crap! I hadn't bought/brought the extra batteries. I'm not sure I could have changed them with my wet and cold fingers anyway, but I was annoyed that my BRAND new batteries didn't last longer. Apparently I ran the light on "bright" the whole time and that was likely my own demise. I looked up the way and Karrie was nowhere to be seen. I started to get pretty down at this point. Three and a quarter hours in, I was running in the dark with no music (it had also died) in slightly more open conditions (read: more wind) in the pouring rain and cold. I was officially NOT having fun. I got to the highline and wasn't immediately sure which way to go, but I could make out a hill ahead and I remembered someone mentioning a big hill near the end. I figured if nothing else, I could get to the top of the hill and try to see how far I was from help (and more likely to get reception for a phone call). Somewhere in here, I ate a granola bar too - as I was sick of the chomps taste I kept burping.
The hill was eating what was left of my battered and broken spirit and I knew that I was probably going to call for a pussy pickup at the top of it. I got to the top and the bitter wind came roaring down the trail pelting me with sleet. My knees and hips had been hurting for a little while too. I recognized where I was - not all that far from the end - but I knew I was done. I remembered a parking lot (trail access) just down the way and kept putting one foot in front of the other as I fumbled to get my phone out of my pocket.
Just as I was turning it on to make the call, I fell hard into the road ditch. Apparently I can't focus on walking in the dark and turning on the phone. Thankfully, phone was ok, but I think this is where I lost my MP3 player. Not a huge loss - it was on its last legs held together with tape and a rubber band, but still a bit of a bummer. I was now more muddy and covered in leaf debris and I called Luke who didn't answer (no service at the parking lot apparently). I called
SuperKate
(read her account of the night at that link) and my hero came to my rescue. It was all I could do not to break into sobs, but I told her I was next to the parking lot. She told me to stay there and they'd come get me.
The race director, Chuck, pulled up a few minutes (that seemed to take forever) later and they welcomed me into their warm Jeep and put a blanket around me. I felt like such a failure, but they assured me I was making a smart decision even if only about a mile from the finish. Got back to the Virtus Van about 8:45 ("race" started at 5:00) and they asked if I needed to change, but since we were going to the Mexican joint a few miles away I suggested we just head out. I got a handwarmer and tried to stop shivering.
I pulled off my muddy and wet clothes - everything sopping wet - dried off with the towel Luke had suggested bringing (great call) and happily slid into warm, dry clothes/shoes. I ate all of my dinner, a bunch of chips and drank a margarita before I finally wasn't shivering. I felt like I could have eaten another whole dinner. The conversation went between the epic-ness of the evening to football to cold "junk" to Bob's ability to say words backwards. Crazy skill!
About 10:30, we headed out and thankfully didn't hit too much ice on the roads until Kingdom City. There were a few slippery spots, but Lukas guided the Virtus Van back to Bob's creating a veritable sauna in the van for us to keep the chills at bay. There was more race talk ("Remember that one crazy night where we ran in the freezing cold and rain?" LOL) and farting and goofing on each other that I enjoyed listening in on as I tried to keep from stiffening up too much as my sore hips and knees were screaming at me. It got so warm that it actually felt good when Bob opened the van door to gather his things (including the trophy for shitting his pants - his story, not mine).
We got back to the commuter parking lot about midnight and my car was frozen shut with probably 1/2" of ice coating the entire thing. I managed to break into the passenger side and turn on the car/defrosters while Lukas and Robby chipped away at the ice on my windshield. It was insane! But chivalry is not dead - the boys got me on my way pretty quickly and I carefully drove home. The main roads were mostly wet with just having to watch for patches of ice.
Got home, climbed out the passenger door, went to my room, jumped in a hot shower, and got in bed shortly before one. I expected to "sleep like a drug addict" (Bob quote), but the soreness would wake me from time to time. Finally, I got up to pee about 7:30 and ask my husband if we were going to mass (no, they went at 7 PM on Saturday so it was a sleep in day), and then I took more ibuprofen and settled in to read the paper and more FB comments on the crazy night.
I mapped the distance from the parking lot to the end of the race and I came within 1.2 miles of completing my first ever half marathon in the most wretched of conditions. I will try to consider my DNF a "win". They did give me the cool SHITR decal for my car window, but I don't think I'll put it on since I did 11.9 instead of 13.1. I'll keep it in my hope chest to remind me that I can do ALMOST everything I put my mind to. Without much more training, I could easily do a sissy daytime road half with no rain and good temps.
Overall, I wore pretty much the right clothes (big win as I'm never quite sure). I had a veritable smorgasboard of food to eat (could have left half or more of it at home, but I wasn't sure what I would want). I didn't drink even an entire handheld of water, but was pretty thirsty at the end and had the lighting issue not been a problem, I'd have probably drank more. Waterproof gloves would have been nicer, but even cheap gloves were better than nothing. I wish I was fast and confident enough to keep up with at least the last person if not my friends because being alone sucks. Will have to work on that. Oh, and next time I will order the BIG margarita!
Took my camera, but decided it was too heavy to drag along. My phone doesn't have a flash and everything was so wet that I didn't bother. I'll hijack some pics from others as they are available. There wasn't much to see other than the raindrops and the puffs of my breath in the cold air in front of my headlamp.
The adventure is in the books. It made for a pretty good story. I really can't imagine that I'll have any desire to go back and try again, but I said that during my first triathlon too. I know better than to say "never". As miserable as this was, Rock Racing still deserves all sorts of kudos for putting together a "race" for a bunch of crazy M-F's to tackle on a cold, wet night. Thanks! Unlikely that it could have been much more awful or awesome.